Writers' rooms: Richard Fortey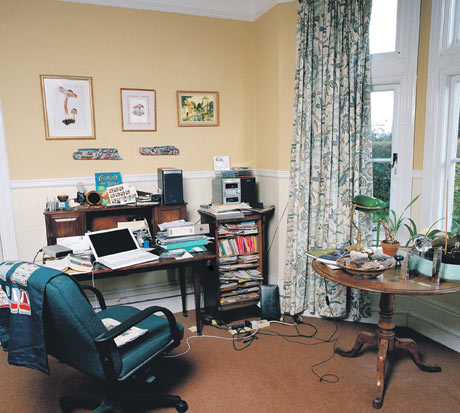 It is Darwin's bicentenary, so I keep my Darwin doll in front of me. It's one of those models with an independently suspended head, so I can set it nodding and kid myself that the great man is agreeing with everything I am writing. I am currently using up the Darwin first-class stamps, though I do have reservations about the jigsaw design.
To the right of my desk I have a cupboard stuffed with maps. Geologists like maps. I like to read the whole landscape from maps and rue the rise of TomTom and its friends. It's like the difference between plainsong and a symphony. People are losing the skill of understanding the Ordnance Survey maps, which are the best maps in the world.
On the table I have two books I am reading, including my friend Michael Welland's book on sand. Two trilobites rest on top. I spent much of my life in the Natural History Museum as the expert on trilobites, but my personal collection is modest. Somehow being surrounded by vast collections dilutes the acquisitive instinct. The glass prism is the Linnean Legacy award I recently brought back from the International Institute for Species Exploration in Tempe, Arizona. Most academic awards are less entertaining. The basket includes things I picked up on my palaeontological travels. There's a deer antler from Oman, minerals from the Deccan Traps, a lump of limestone made from remarkable shells that live in salty water in Shark Bay, western Australia - but there's also a fossil sea urchin I picked up in the Chilterns.
On the walls there are pictures of fungi - mycology is another of my passions - and a couple of paintings on driftwood by Nicholas Hamper. Some visitors think it unusual to have a writing room here in one of the main reception rooms. I grew tired of writing in dark garrets at the top of the house, so it is good to have a brightly lit desk on the ground floor at last. It does, however, mean that I am more easily disturbed by cats.