Talk about immediate identification. The first sentence here encapsulates MANY exchanges on the sofa in front of our TV, even though we're more likely to be watching conspiracy thrillers than costume dramas.
For those of you who might tune into "Emma" when it appears on PBS, click here for the rest of Lucy Mangan's amusing
Guardian
piece:
http://www.guardian.co.uk/tv-and-radio/2009/oct/13/whos-who-bbc1-emma
In Emma, the BBC's latest bonnet-based classic adaptation, the game known in various households as "Oh-my-god-where-have-we-seen-him-before-no-not-him-the-other-one-he's-from-that-thing" has reached its zenith. Anyone who's anyone is in it. To save you scratching the inside of your own brain out at 2am trying to place them all, we have done the heavy lifting for you.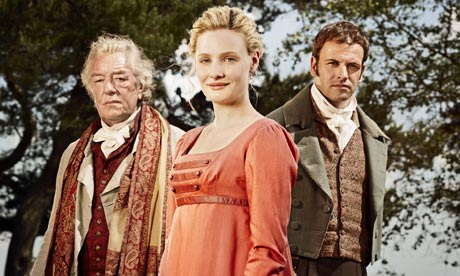 Mr Woodhouse (Michael Gambon), Emma (Romola Garai) and Knightley (Jonny Lee Miller), from BBC1's adaptation of Emma. Photograph: BBC/David Venni/BBC