Michael and I visited the map exhibition at the British Library on Saturday with Cheri and Hans-Jörg. It is in the BL's inner sanctum that you'd expect to find the following collection: extraordinary that items like these have until now been in a single person's hands, "English and 'a reluctant seller.'" I wonder how many will now move into the public domain (in the non-copyright sense of the phrase).
Sotheby's to auction 'knockout' collection of first-edition books
Exclusive: Collection estimated to be worth £8m-£15m, including signed copy of A Christmas Carol, will go under the hammer from October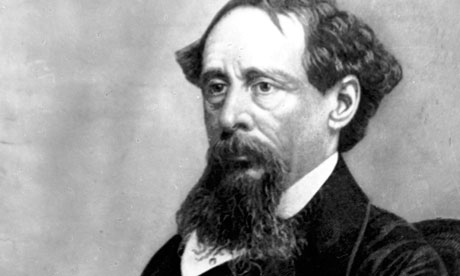 In terms of scale and quality, it is one of the finest collections of first-edition books assembled in recent times, containing all of the great works of English literature, from Shakespeare's collected poems to Mary Shelley's Frankenstein and James Joyce's Ulysses.
Sotheby's today announced it was to sell what its specialist Peter Selley described as "the most impressive collection of English literature assembled by any British collector in the last 30 or 40 years. Certainly the finest collection of its kind that I'm aware of, unless someone has been squirrelling things away – and that's highly unlikely."
Selley said the collection was notable for its breadth of range and more or less all of the greats were there. "In terms of the canon of literature, from an Anglo-Saxon perspective, this is the greatest collection of its kind. Every book is a knockout. It's just extraordinary. It takes your breath away. It's the greatest collection I've ever seen and probably the greatest collection I will see, because I can't imagine that anyone would be able to create it again, even if they had the funds."
The value of the collection in its entirety has been roughly estimated at between £8m-£15m and it is so vast – around 3,000 books – that Sotheby's is breaking it up into a series of sales beginning in London on 28 October.
Among the highlights are an inscribed copy of Charles Dickens's A Christmas Carol that he gave to his friend and confidant, the actor William Macready. The inscription, with Dickens's absurdly flourished signature, reads: "To Macready, From his affectionate friend, Charles Dickens, New Year's Day 1844."
The book, of course, helped invent the modern idea of Christmas and is one of the most sought after of all novels by first edition collectors. "This is a book that does turn up but it's often battered," said Selley. "But this is so fresh and even if it wasn't inscribed you'd say it was one of the best copies you could ever find."
Sotheby's believes it has only been owned by two people since Macready and it has never been up for auction. Estimates are still to be given but Selley said it would be in the region of £150,000-£200,000.
Many of the editions in the collection are for friends, such as the first collection of TS Eliot poems that he had published in the US. The inscription reads, stiffly: "To Virginia Woolf, From the author, TS Eliot." "He wasn't a 'love, Tom' sort of person," said Selley.
Others are pre-publication, highly limited editions, such as an edition of Evelyn Waugh's Brideshead Revisited. Other highlights from the past 200 years include Wilkie Collins's The Moonstone – the novel that started off detective genre fiction – in its original cloth; Samuel Beckett's seminal novel, Murphy, which is, unusually, in its original dustjacket; DH Lawrence's The Rainbow from 1915, again in its original dustjacket - "it's just something you don't see," said Selley – and perhaps the most important French novel of the 20th century, Proust's À la Recherche du Temps Perdu.
Some go further back, such as the first collected edition of Shakespeare poems, dating from 1640.
Sotheby's said the bibliophile seller wanted to remain anonymous, but it is known that he is English – a rarity as most of the big collectors tend to be American – and Selley said he was "a reluctant seller". "He prefers to be around to see the disposal of the collection," Selley said.
The sales will be held in London and New York with a children's book sale pencilled in for December and a number of single author special sales planned.
All the editions have been incredibly well-preserved and – it might be hoped – opened at some stage. So spare a thought for a first edition of David Ricardo's seminal work On the Principles of Political Economy and Taxation which will probably be catalogued as "mostly unopened" since the pages remain uncut. "It adds something, yes," said Selley. "Perhaps it's the potential thrill of being the first to open it." "Of course you wouldn't do that if you bought it," he quickly added.
http://www.guardian.co.uk/books/2010/jun/01/sothebys-auction-first-editions-books